My bed at the parent's farm was hurting my back – and with a old 5 inch spring mattress, it was clear the mattress there was a leading factor. A 2″ foam topper had not done much to help. When a friend start shopping for a mattress for their new apartment, it finally occurred to me that I should maybe get a new mattress too.
And as I began searching for mattresses, I became extremely frustrated. Most of the reviews out there are either sponsored or outright fake. The only reliable review source I found was the Wirecutter from The New York Times. I began to realize that most mattresses are pretty much the same: some layers of foam (usually 'memory foam' but sometimes more natural latex) and/or springs. There are a few minor innovations, but overwhelmingly mattresses are all built from the same pieces, using different combinations of layers, and different combinations of marketing.
Around this point in my search I stumbled upon a reddit discussion of do-it-yourself mattresses. Basically, instead of buying mattresses pre-built, you buy foam sheets (which is easy to do) and stack them up yourself. I thought this was outlandish, but curious I followed and discovered it is a fairly well established thing. It got a skeptical reception from friends and family, but being a DIY kind of person, I decided to give it a try.
Advantages of a DIY Mattress:
Adjustable comfort – you can change or swap around layers without having to change the whole mattress, or for example with a queen bed you can customize layers to be different on different sides of the bed by using two twin layers side-by-side.
Easier portability – not something most people consider, but the mattress I made is massive and heavy – not something easy for me to move on its own. Yet pull it apart into layers, and each layer is much easier to move (although still best to have two people to do it).
Cheaper – this is more of a "it depends". You can definitely get a mattress more cheaply this way, especially if you skip adding a case, but the cost difference is small enough that I don't think this should be a motivation for most people. You can definitely build a "luxury" mattress much more cheaply than buying one, but on the cheapest end, the price between DIY and pre-built is minimal.
A general feeling of having more control as opposed to feeling manipulated by marketing.
The main disadvantage is probably "aesthetics" in that you don't get it all in a neat package. Actually, you can buy a nice zipper case to hold it together, but that is rather expensive. I instead got a large, high-quality mattress protector for a much cheaper price, and wrapped it all up in that, hiding the layers. even when sheets are removed.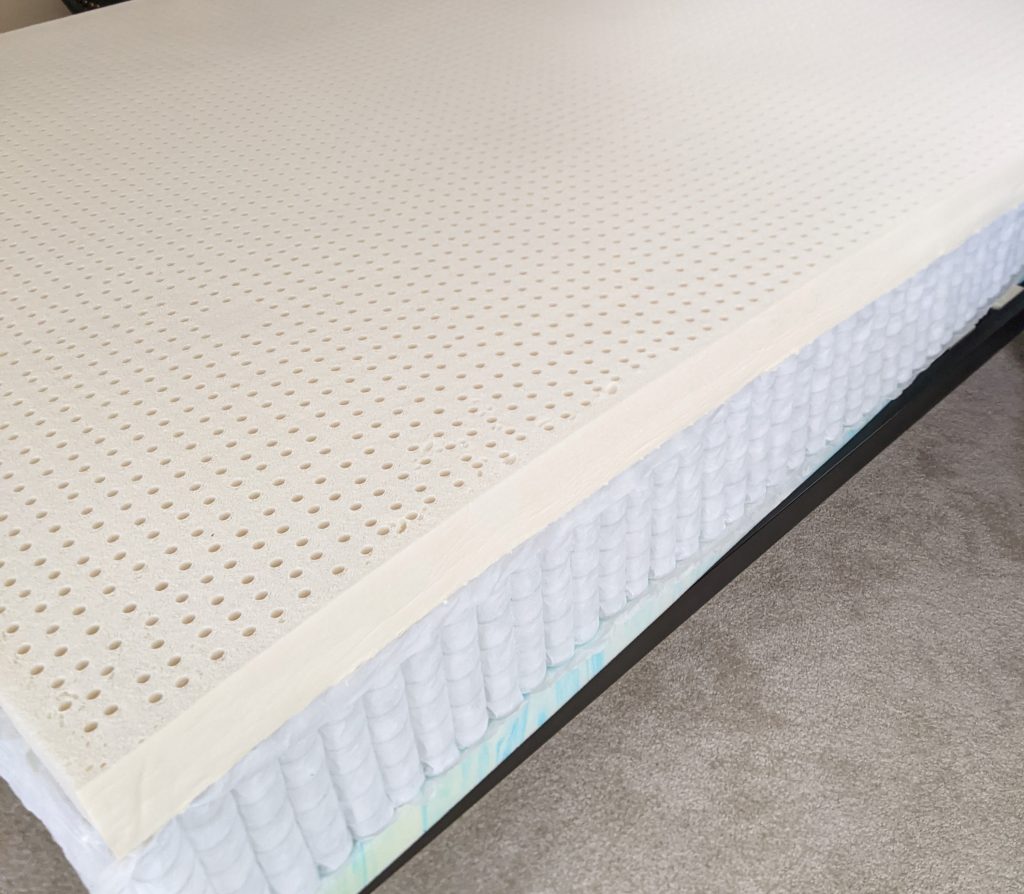 To get started with making a mattress, you need to decide what kind of mattress you want to make. I personally had no idea what I liked, but having grown up mostly on spring mattresses I felt that a "hybrid" mattress (a spring layer and one or more foam layers) was the right thing to try. Based on a reddit post, I decided to go with a spring layer (8″), a 3″ dense layer (29 ILD), and a 2″ soft layer (19 ILD) – with the spring layer placed on top of my old memory foam topper as a small supporting base for a total of around 15 inches in height. This initial assemblage I found to be uncomfortable, so I swapped the top layers around, putting the dense 3″ layer on top over the 2″ soft layer, and viola, perfection – and thus neatly showcasing the advantage of customization with these mattresses.
After this experience, I can say that the 2″ soft layer was unnecessary for me to get – it does improve the mattress having it under the dense layer, but it is fairly minor improvement in my opinion. Indeed, even simply buying a 3″ dense latex layer and putting it on top of my existing spring mattress would probably have been sufficient. For most people, I would think a very dense base plus a dense foam layer is all that is needed to start – some people may like soft layers on top, but that definitely isn't for me.
I am curious how an all-latex 6″ mattress or an all memory foam mattress would compare. My greatest concern with all-foam mattresses is excessive heat build up.
Going into this project, I knew that I wanted to give latex foam a try rather than using memory foam. I have a bias because I have long known that latex rubber is the best material for inner tubes for bike tires – so maybe not directly comparable knowledge, but I do love cycling so it makes a difference to me. Latex is much more expensive, but is generally supposed to be more environmentally friendly to produce, as well as being longer lasting. It also it supposed to release fewer and safer odors than memory foam – memory foam being rather known for off-gassing questionable fumes.
The DIY mattress market has one thing in common with the main mattress market and that is companies having multiple fronts. The so called "Arizona Mattress Factory", "DIY Mattresses" and "Latex Mattress Factory" websites all appear to be the same company. One the other side, Foam Factory also appears to have multiple websites – although they at least make it clear they are the same "Foam Factory" company on each website. Personally I get better vibes from Foam Factory, but I bought from DIY Mattresses the spring layer as they had the most choices.
Likely the best option would be to skip dedicated DIY sellers and buy a cheap spring mattress from anywhere, then buy the layers sold not as "layers" but as "mattress toppers". A mattress topper is just a layer of foam, and there are a million Amazon/Walmart/etc sellers who provide these in endless variety. I suspect this approach would yield a similar mattress to the one I built, but at a cheaper price. Add a mattress protector to hold it all together, and presto, hybrid mattress created. Latex does seem worth it so far, so I do recommend trying it over memory foam.
For the record, since I am not currently living at my parent's farm, said parents tried out my mattress there and found it to be extremely comfortable. So comfortable, in fact, that they just decided to sleep in my room instead of their own (without asking for my permission, I might note…).
Below are my exact order details:
Product
Quantity
Price
Dunlop Latex Foam Toppers
Thickness: 3″ Medium – 29 ILD
Topper Size: Queen 60″ x 80″
1
$218.99
From Foam Factory, which has better prices but less selection
Latex Mattress Toppers – Talalay Blended × 1 Queen / Soft #19 / 2″ $219.00

DIY Combi-Zoned Pocket Coil Spring × 1 Queen $350.00
From DIY Mattress (which had a 5% off Coupon I found, not shown)