This all happened weeks ago, but I figured I should get around to posting about it at some point. The first bulbs to come, which I planted back in September, were the fall blooming crocus. They bloomed a bit over a month after planting. You can seem them in the featured image. I don't think I have ever seen these before, but they are quite nice – a bit of spring in the middle of the fall.
Then, of course, a lot more bulbs came – tulips, hyacinth, species tulips, allium, and lilies. We got a lucky break on the weather, first week of November and low 60's F! Most of these bulbs were divided between the front garden near the kitchen windows, and Kelly's garden. In general, I tried to get types of bulbs that should come back year after year, and also to plant them deeply and in good locations so that they should hopefully last many years. I have put the full list of bulbs at the end of this post.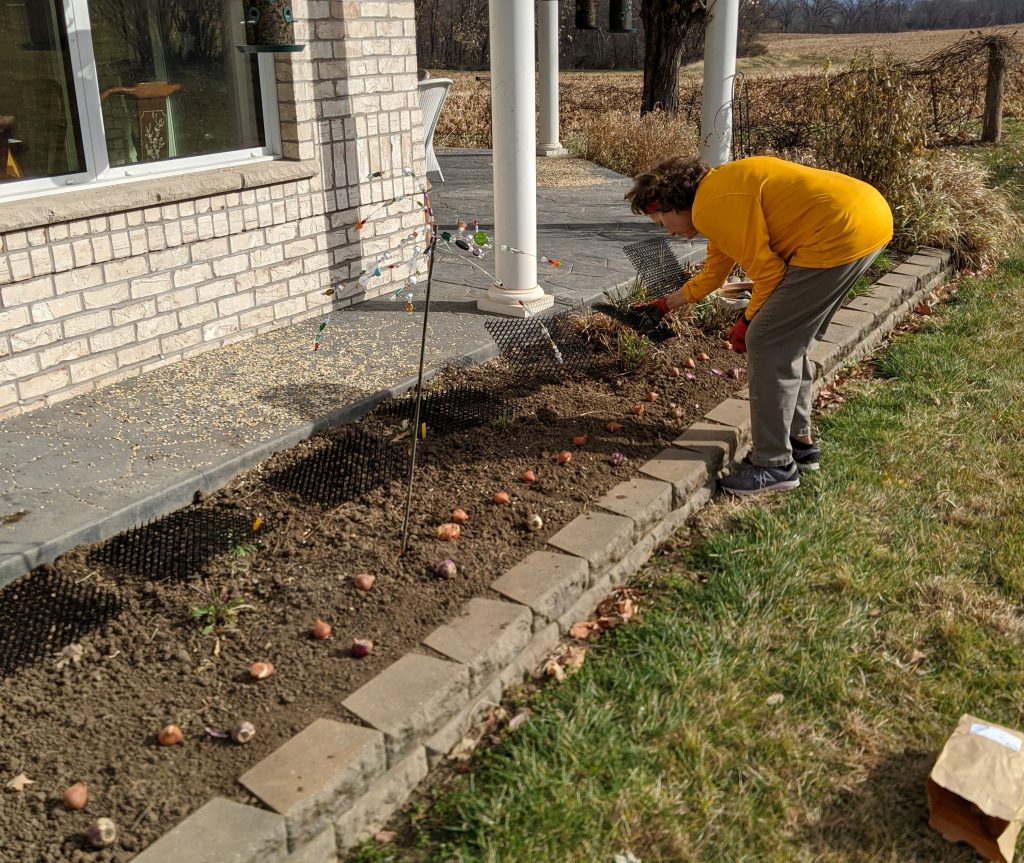 Then, of course, there was the planting of the prairie. Site preparation included mowing, rototilling, and then applying herbicide to any seeds that sprouted before planting. We had about two months of occasional spraying to try and deplete the existing seed bank (many of the existing seeds there, grasses and so on, are probably fine, but not thistle and others). No doubt there will still be plenty of these seeds that come up, but this should significantly cut down on the amount of weeds overall.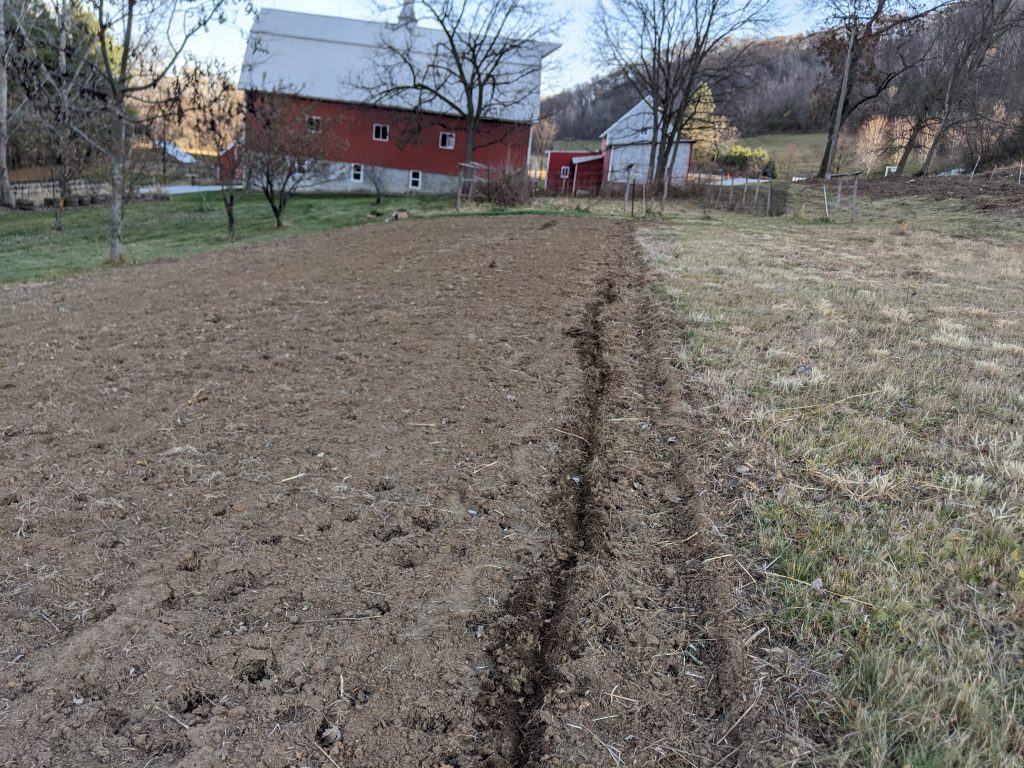 Then came planting in November, which pretty much is just throwing seeds out on the ground. That's easy. The hard part was raking. We tried to rake the soil over the seeds a bit and it can take quite a while. This site is almost exactly 1/8 acre. I used a mix of Pretty Darn Quick and Tallgrass Prairie Mixes from Prairie Moon Nursery – I probably used 3/16 of an acre worth of seed, so a bit more than called for. I also planted a row each of Wild Blue Indigo and Butterfly Weed along the southern most edge of the plot.
I put up a metal sign as well "Native Prairie Do Not Mow or Spray" and it looks rather nice. Evidence suggests the sign has also proven popular as a place for birds to sit.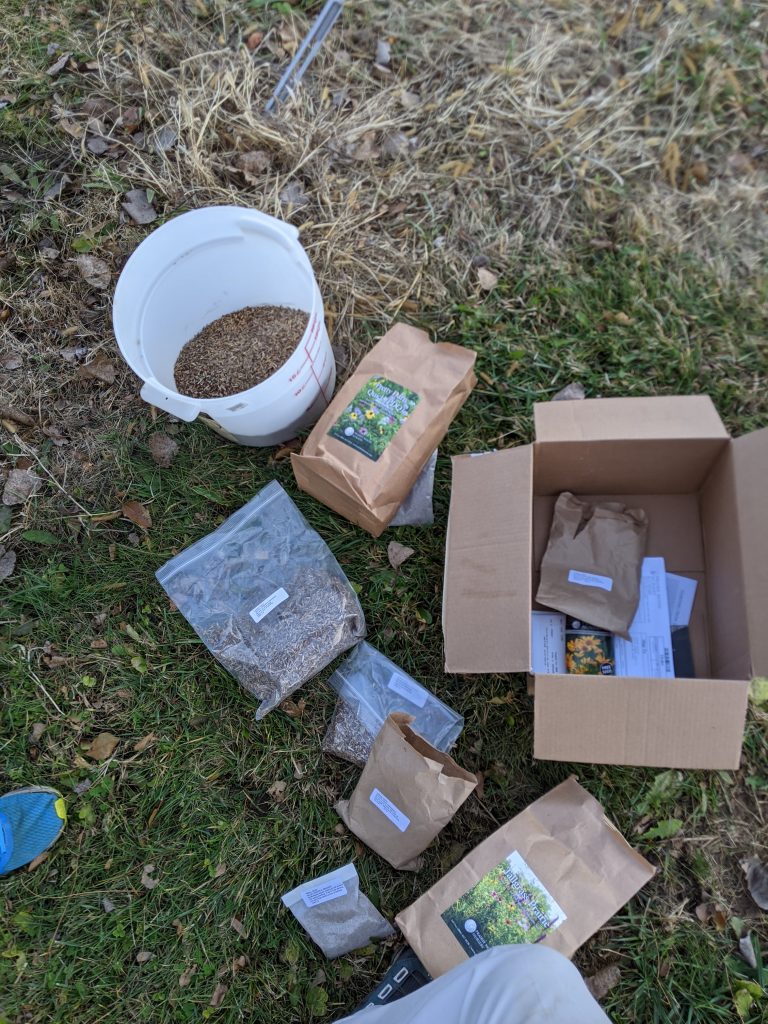 Pretty Darn Quick (PDQ) Seed Mix Catalog Number: PDQ8-X
1/8 acre
1
$123.00
$110.70
Tallgrass Prairie Seed Mix for Medium Soils Catalog Number: TGM8-X
1/8 acre
1
$181.00
$162.90
Baptisia australis – Blue Wild Indigo Catalog Number: BAP04F-S-2
1/2 oz.
1
$6.50
Asclepias tuberosa – Butterfly Weed Catalog Number: ASC16F-S-8
1/8 oz.
1
$5.00
Native Plant Signs Catalog Number: SIGN-M
1
$28.00
Prairie Seeds as ordered from Prairie Moon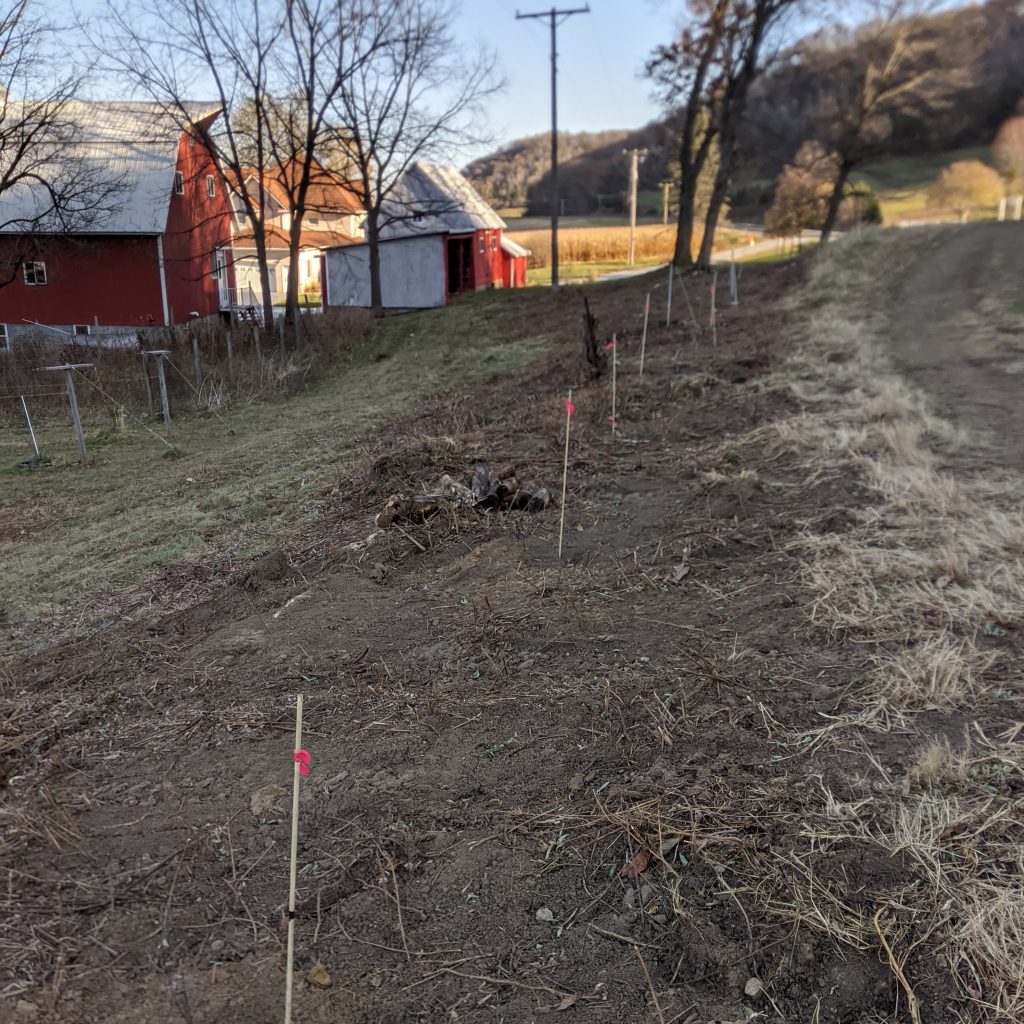 Finally, we also cleared out the hedge south of the prairie and grapevines. By "we" I really mean my dad, who got carried away on the idea once I suggested it. It harbored a reservoir of weedy trees, including invasive buckthorn and honeysuckle. They were also growing under power lines. In its place, we have my hazelnuts I planted earlier this year, as well as some Arbor day flowering shrubs from a year or two ago, and some of my grafted dwarf apples planted. I have some more native fruiting shrubs (hazelnuts, elderberry, chokecherry) coming next year, so in the long run we should have a nice, power line friendly hedge on that side of the field. It looks really open to the road compared to what is was before.
Bulbs from Fedco Bulbs
6106C – Crocus speciosus Autumn flowering Crocus (25) 1 x $14.25 = $14.25

Plant numerous in the NE corner of Kelly's Garden, where the bittersweet is, along edging

6228A – German Extra-Hardy – Organic Hardneck Porcelain Garlic (3) 1 x $15.00 = $15.00
6408A – 'Purple Sensation' Flowering Onion Medium-height Alliums (10) 1 x $8.00 = $8.00

5x to supplement where the allium were previously in Kelly's garden.

6430A – 'Flower Record' Jumbo Crocus (10) 1 x $4.90 = $4.90
6454C – 'Peter Stuyvesant' Hyacinths (12) 1 x $13.30 = $13.30

Front kitchen/dining area mixed with Fosteriana

6554C – 'Rosella's Dream' Asiatic Lilies (6) 1 x $16.64 = $16.64

In half-circle of Kelly's garden in middle section

6558C – Oriental Lilies Mix Oriental Lilies (12) 1 x $32.50 = $32.50

In half-circle of Kelly's garden nearish the path
3-4 of them in a tight group in row with the tall grasses near the magnolia

6711C – Little Stars Rockgarden Species Tulip Mix Species Tulips (50) 1 x $16.75 = $16.75

where the botanical tulips are already in the half-circle
extras placed on east of house facing the grape vines or in NE bittersweet section by edging

6804C – 'Red Emperor' Fosteriana Early Tulips (25) 1 x $15.65 = $15.65

in front row of house mixed with hyacinths

6857C – Darwin Hybrid Topsize Tulip Mix Tulip Mixes (50) 1 x $24.15 = $24.15

in front row of house near kitchen/dining