Overall: the Yoga 7i 2 in 1 is an excellent ultrabook offering everything one would expect from one of this class: slim & light, good screen, good keyboard, and good battery life. It even goes above and beyond, with impressive single core CPU performance and great speakers. Multi-core CPU performance and graphics performance are both good when compared to previous generation ultrabooks, but are quite poor when compared to gaming laptops and desktops – a sacrifice all ultrabooks make to get the slim profiles and long battery lives.
Pros
Truly impressive speakers
Excellent single-core CPU performance
Nice keyboard, nice screen
Good battery (~12 hours of light use)
Build is clearly high quality and finish is resistant to fingerprint marks
Integrated Xe graphics are a major improvement over previous generations
Good port selection for an ultrabook, in my opinion (2x Thunderbolt USB-C, 1x USB-A, headphone)
Cons
Multi-core performance is poor compared to gaming computers and desktops
Integrated graphics won't be enough for high-end gaming
720p webcam is uninspiring, although built in privacy shutter is nice.
Case sometimes creaks where I rest my left palm
It has a Windows Hello fingerprint reader, but not a facial recognition IR camera. Personally I am fine with this (I can leave the privacy shutter on the webcam closed most of the time which you can't do with a Hello camera) but some people may not like.
Update after 4 months: I'm still really loving this computer. That said, I think I would love most Intel Evo computers – the 1165G7 CPU in particular offers great data science performance, and also a good battery life.
The only tradeoff ultrabooks seem to have these days is the lack of a good discrete GPU (although the integrated Xe is a big step up) – and personally I don't find I need a portable GPU, I'll use my desktop if I want massive graphics performance.
This model was purchased for $1,150 in fall 2020 – with an i7 1165G7 CPU, 16 GB of RAM, WiFi 6, 512 GB SSD, and Windows 10 Home. Full specifications are visible in the attached image.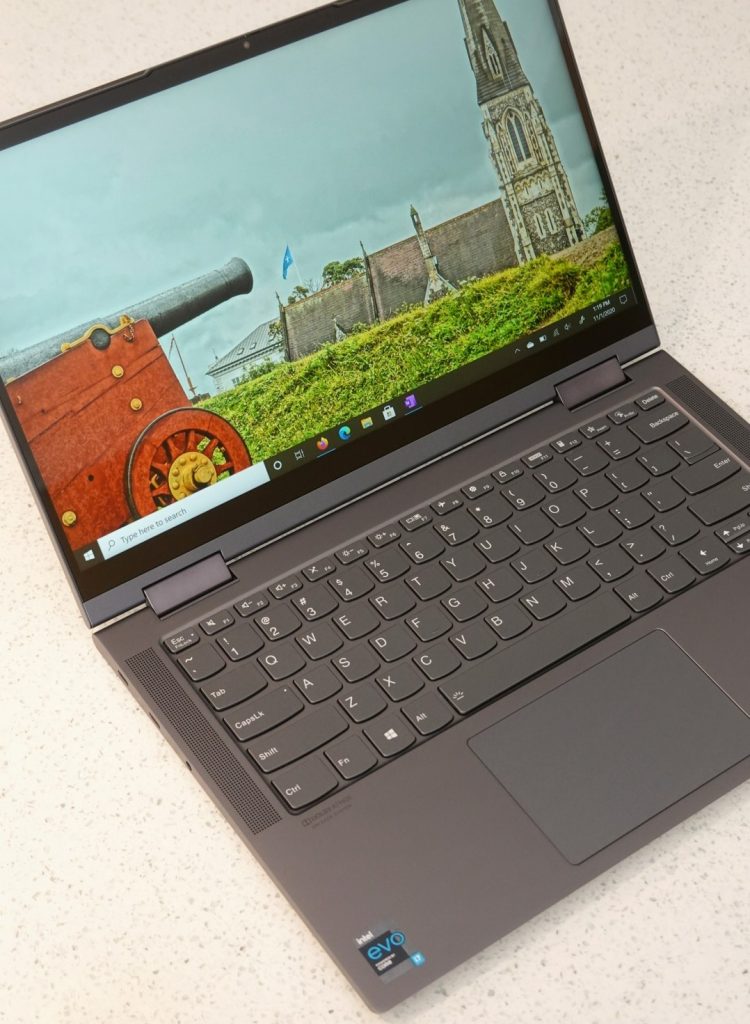 Overall, the computer has a very professional aesthetic. There are no eye-catching details of any kind, with a continuous slate gray appearance. The Intel Evo sticker is very prominent for being the only spot of color. The computer has a very dense, metallic feel to it as well, although fairly light at 3.18 pounds (1.44 kg) on my scale. There is absolutely no flex in either the screen or body, something I really enjoy. The aesthetic in many ways is the exact opposite of the RGB rainbow colors of the Razer Stealth. With the Razer, people knew I was off the clock while using it, but with the Yoga here, working professional is definitely the impression.
The only thing that has really surprised me about the computer are the speakers. They are vastly superior to any laptop speakers I have encountered – loud and great quality. Everything else about the computer matches what I was expecting from the Intel Evo certification – good to great.
In my mind, before purchase the strongest direct competitors were the Dell XPS, the HP Spectre, and HP Envy. The Dell XPS and HP Spectre are both, in my opinion, overpriced, offering marginal if any improvements over the Lenovo Yoga – and much more expensive for directly comparable hardware. The HP Envy was a much closer rival. It had one downside, however, that put me off: no USB-C charging (I like being able to use a single charger for my work computer, personal computer, and cellphone if needed).
On the slightly cheaper end were the Dell Inspiron 14 7000 and the ASUS Zenbooks and Vivobooks. My impression of these was they are of slightly lower quality (but still good) build, and of corresponding lower price. If your budget is not quite able to stretch to the Lenovo Yoga 7i, I think any of these would be good options instead. On the pricier end, and if you want a discrete GPU, I would consider the MSI Stealth m15 or ASUS ROG Zephyrus G14. The latest Razer Stealth might also be a decent option – if you wait for it to go on sale.
I was mildly concerned about Lenovo as a Chinese brand. Removing all of the preinstalled Lenovo software should probably minimize much of the security risk if present (actually this is a good idea on any new computer, just don't accidentally remove any audio drivers or anything really useful). Ideally I would actually reinstall Windows on this computer first, but I discovered I can't actually do that (yet) because the drivers for the SSD, Touchpad, and Keyboard are not yet available in the standard Windows build and I have zero inclination to manually add the drivers during an install. Overall, I do nothing secretive on my laptop, am generally familiar with basic cybersecurity, and I have access to a number of other computers should one fail, so I see little risk.
Performance
| | | | | |
| --- | --- | --- | --- | --- |
| | Yoga 7i (2020) | Razer Stealth (2016) | Alienware 13 R3 (2017) | Desktop (2020) |
| CPU | i7 1165G7 -10nm | i7 7500U -14nm | i7 7700HQ -14nm | i7 10700 -14nm |
| GPU | Intel Xe Integrated | Intel UHD Integrated | GTX 1060 | GTX 1650 Super |
| Gaming | 30% | 11% | 43% | 67% |
| Desktop | 99% | 64% | 83% | 115% |
| Workstation | 26% | 10% | 37% | 107% |
The benchmarks here are UserBenchmark performances I recorded in Fall 2020. They are percentile rankings not absolute performance numbers.
I bought this computer to replace a first generation Razer Stealth. It handily demolishes it in all aspects of performance. It even starts to challenge an Alienware gaming computer with discrete graphics ($2000 three years ago) – although once 10nm i7 HQ CPUs and Nvidia Ampere mobile GPUs start arriving sometime in 2021, gaming laptops will once again pull ahead with a clear lead. AMD Ryzen computers may actually be the best current option for gaming and creativity, but due to Intel MKL throttling are somewhat inconvenient for the scientific computing I perform.
The comparison here to a desktop shows that any laptop will struggle to equal a desktop's performance. The Yoga 7i handily suits my needs in performance – the high single core performance makes for speedy calculations for the types of workloads I might be testing locally, while not bothering to tackle the workstation types of tasks that I will be running on my desktop or a VM anyway.
Given my lack of concern for GPU's you can tell I only rarely play games – indeed my GPUs get used more for deep learning. But if you are a serious gamer, you already know you want Nvidia's Ampere RTX 3080 or AMD's Big Navi 6000's in a desktop anyway. The integrated graphics of the Intel Iris Xe are actually much better than any past integrated graphics, and more than good enough for the occasion Civ VI game. Casual gamers, surprisingly, might start finding they don't need a discrete GPU if Intel continues to build on Xe.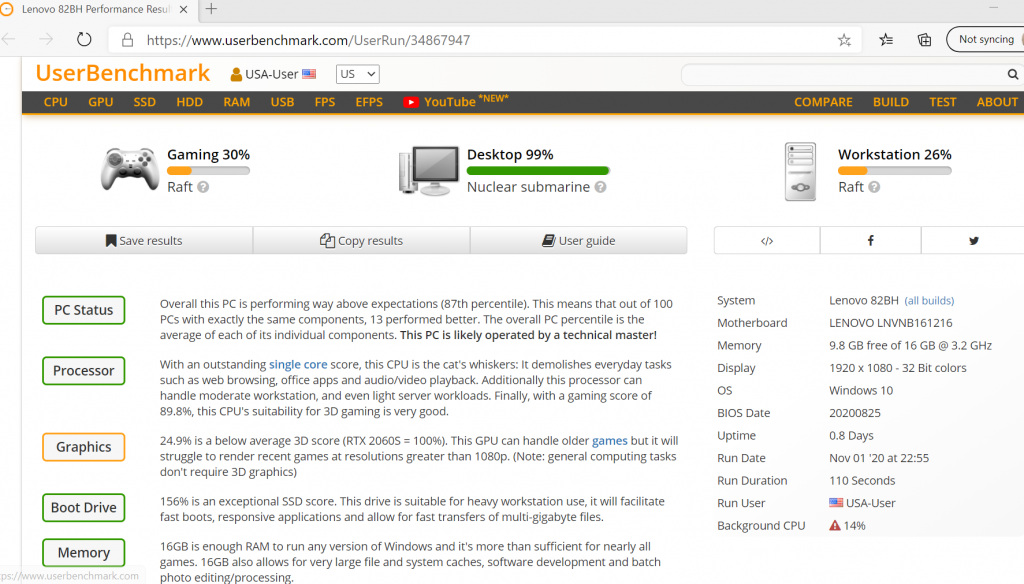 Personally, I am thrilled to have purchased this computer. As far as I can tell so far, it does everything I want exactly as I want it to.