My first road bike was a Motobecane Lechampion Titanium with Ultegra groupset that my dad liked so much that he bought a second one – that one with SRAM Force mechanical.
My bike was given away a few years ago to a friend of a friend, a pastor who needed a decent bike for commuting and couldn't really afford one himself. Dad probably should have given away his own bike instead of mine, because his had ugly red decals and had SRAM Force – we love eTap shifting logic, and SRAM TT shifters, but not so much their regular shifters. But he gave mine away, and despite loving Kelly's "Monster Bike" which also has SRAM Force, never rode his bike which he had kept, claiming various dissatisfactions. Ultimately I suspect it was the branding: Motobecane is run as the branding of bikesdirect, a discount bike seller selling various 'generic' bikes made in Taiwan, and it therefore has brand stigma.
Here's a photo of that bike, a few weeks ago: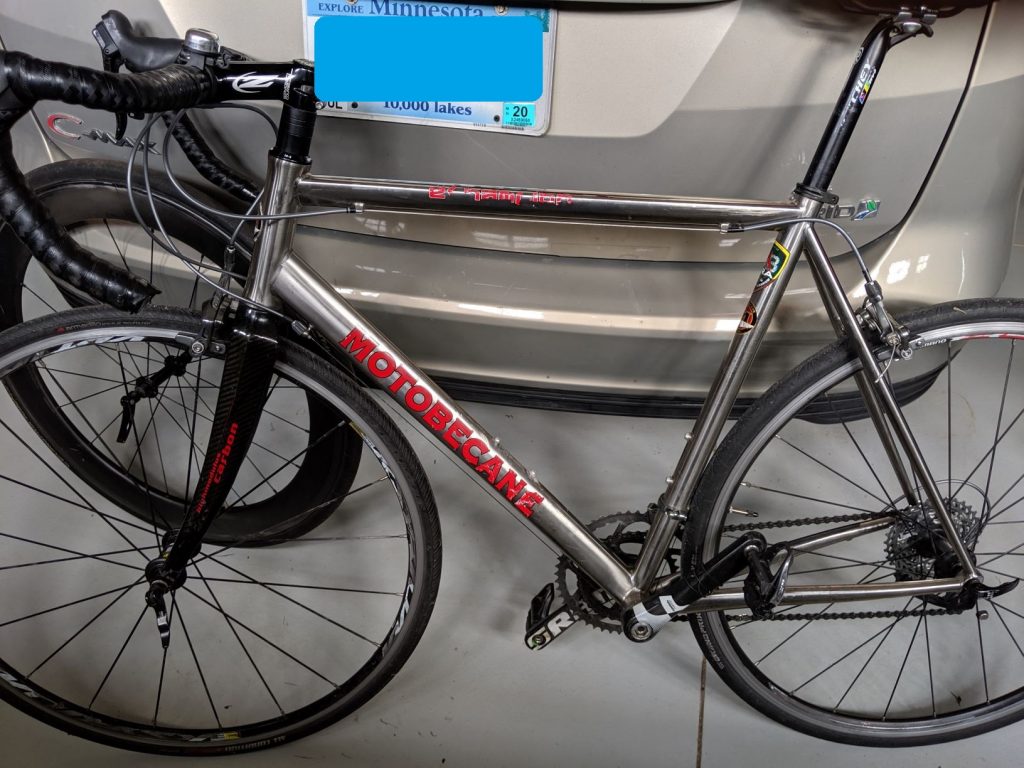 The first step on rebuilding this bike was to polish the frame. Polishing is easy but takes lots of time: just keep scrubbing with the rough side of a green Scotch-Brite pad. One important thing is to always rub the pad back and forth in the same direction to get a good polished look. I needed acetone to dissolve the most stubborn logos, but GooGone and car wax were also used. I spent a few hours, outside with a fan on, on the porch while playing some TV episodes to get it done. It was actually quite pleasant.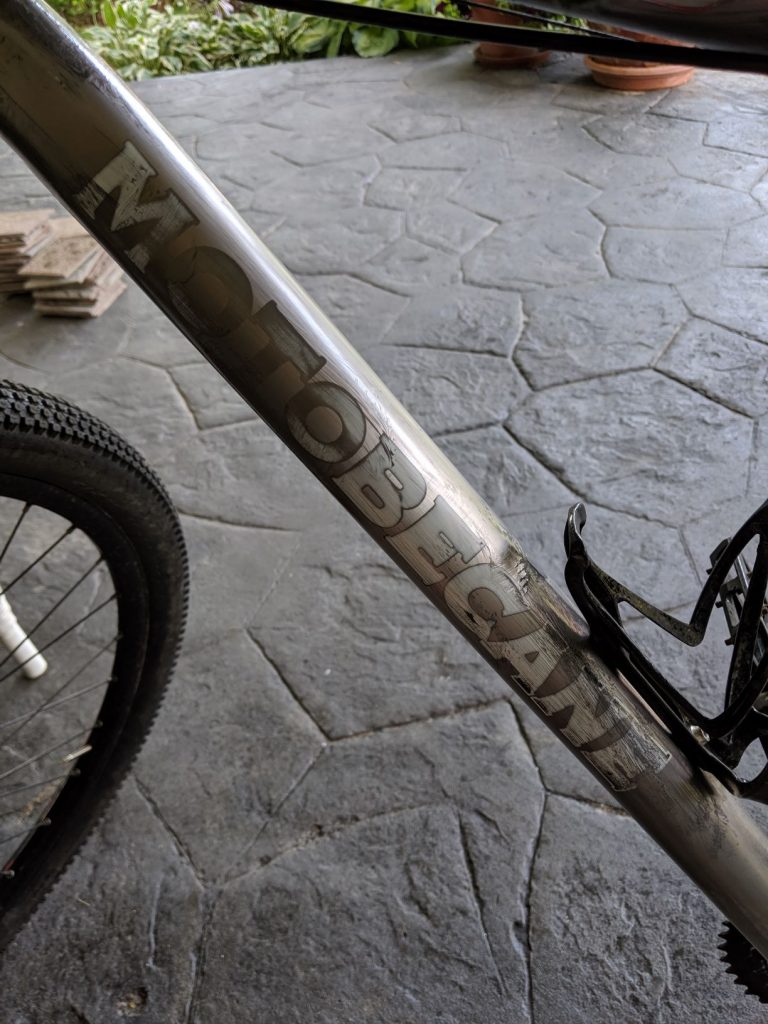 One mistake, visible if you look closely at the finished bike, is that I didn't really polish the whole bike, just the down tube and top tube. They really shine with a nice polish, but the rear chainstays have a slightly different look, that of the original, because they were not polished very well. I should probably go and spend a few more hours polishing it… eventually…
Removing the red logos paved the way for a new color scheme: shiny titanium and matte black. The parts I put on it were largely the parts taken off the decommissioned Trek Emonda (which had a slightly creak in the bottom bracket from a worrying, if apparently safe crack in that area). A 3T aero cockpit, Zipp carbon stem, Dura-Ace brakes and shifters (making the bike 11x, previously 10x), with an Ultegra crankset (I'm not sure where that Ultegra crankset is from, some piece of dad's). The only thing I need to buy to have a complete, brand-new drivetrain was a new chain. The wheelset is one I have put quite a many miles on, a Tokyowheel carbon wheelset, which had its freehub replaced as part of this project.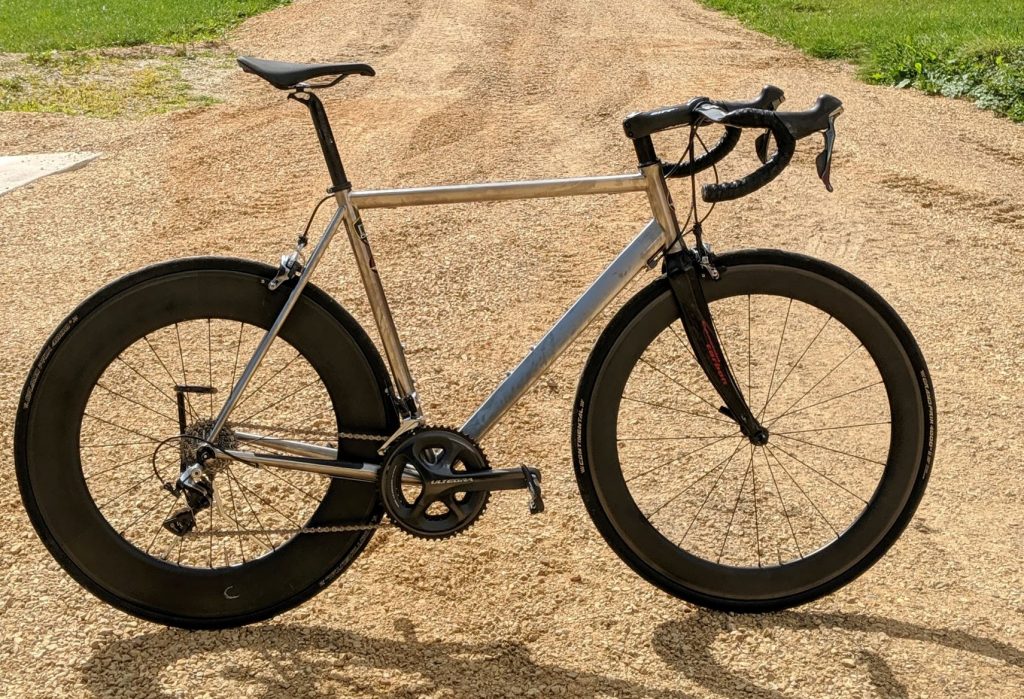 Titanium is said to have the best ride feel of any frame material – a matter of great debate, but I can see why, for those who value performance, but also practicality and comfort. It's very stiff, and yet comfortable, especially compared to aluminum, absorbing vibrations. Titanium alloy doesn't corrode like steel, and even aluminum, will. It's lighter than either steel or aluminum, and it is more durable than carbon. It is, however, significantly more expensive than the other materials, partly from material costs, but mostly because of labor costs, as it is difficult and expensive to weld properly.
Before this rebuild, this bike was not particularly 'stiff', stiffness being the feel of how a bike transfers power – how well a bike accelerates for the same amount of power, if you will. After the rebuild, this changed. In particular, the stiff, deep carbon rims of the wheelset make the difference, but also the improved cockpit and cranks. It feels different than a carbon bike, and still doesn't contend with the likes of my Trek Madone in race quality.
It is, however, close to perfect for daily riding, most of the performance of a racing machine, yet with a more timeless feel. In general, I would recommend titanium bikes over carbon bikes for those people who want great performance, but who won't be racing or upgrading to a new bike every year or two like most of us with carbon bikes do.
On other news, I seem to have fixed, or rather discovered the limitations, that prevented me from uploading pictures, so back to blogging! I've got a whole bunch of projects that, having started when I returned from Europe, are getting presentation ready, so plenty more to come.
And that's enough of talking, time to go ride!