Lviv is a wonderful, friendly city. It sits on the far western edge of Ukraine, near the border with Poland. Indeed, the Polish were among the seven or so different political entities that controlled the city in the last 100 years or so, and Polish connections with the city, including tourists, appear to be pretty common. The city center itself to me feels 'Austrian' – a result of the Austro-Hungarian control of the city for the two hundred or so years leading up to the First World War.
The city is remarkably compact, for housing three-quarters of a million people. I could walk the 6.5 km from my apartment in the city center to the airport if I had felt like it – indeed I nearly did, in a walk to the Victoria Gardens shopping mall which is near there. Closer to home, there were at least 3 supermarkets within a 10-minute walk of my apartment. Overall, the city is highly walkable, and with some decent parks, High Castle and Stryiskyi Park being the most popular among locals. I also loved the forested trails of Znesinnya Park and the semi-hidden trails around the Citadel towers.
The national rail system seems to work well, and the trains I took to Kyiv (7 hours) and Truskavets (3 hours) were nice enough, and timely.
Other young men of my age who have visited Ukraine and written about it, like to comment on how beautiful the women are. More noticeable to me was how few fat people there are – some are overweight, but nothing like the obesity we have so widespread in the US. Above all, everyone I met was very nice and polite. Or at least they seemed nice – I could rarely understand what they were actually saying.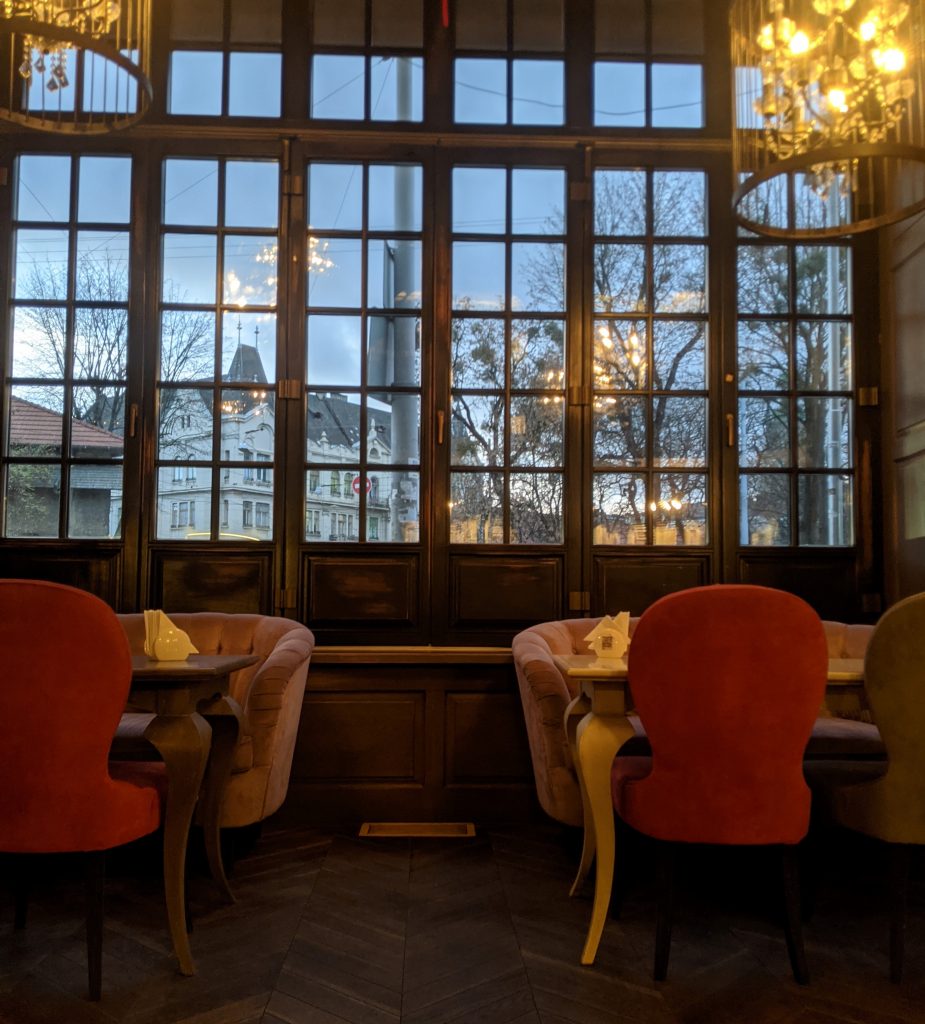 Lviv has excellent cafes and restaurants. I drank copious amounts of tea and cocoa – there was an excellent selection of both in most places. Sea buckthorn tea infusions are one to try. I had a running joke about the Caesar salads – in that almost no restaurant really offered a truly Caesar salad, and rather Caesar just meant any salad with a white cream sauce. I must have had twenty Caesar salads, all very different, but all very good.
Authentic Ukrainian cuisine is less common in the city center restaurants. Borscht and varenyky (dumplings) are great, and should be tried. Other local foods, though made from familiar ingredients – potatoes, cabbage, and beets along with meat (well, all kinds of meat…) are remarkably exotic. A number of things that looked a little like coleslaw combined with that general Eastern European love of meat (and vodka), along with soups and stews. I had mushroom soup from a number of different places, and all were great!
The Lviv Chocolate Manufactory is awesome, and owned by the same oligarch who owns Lviv Croissants (a large chain, good for a quick bite, somewhere between Starbucks and Subway in what it offers). The Grand Café Leopolis and Kabinet were two of my favorite cafes. Baczewski and Druzi's were both good restaurants I enjoyed. I loved the quasi-medieval atmosphere at 5-Te Pidzemellya (Dungeon). The Silpo grocery store at Forum Lviv is wonderful because it has self-checkout machines, and the same can be said of some, but not all, of the McDonald's. Why is self-checkout so wonderful? It's great when you are tired of trying to interact with people in a foreign language…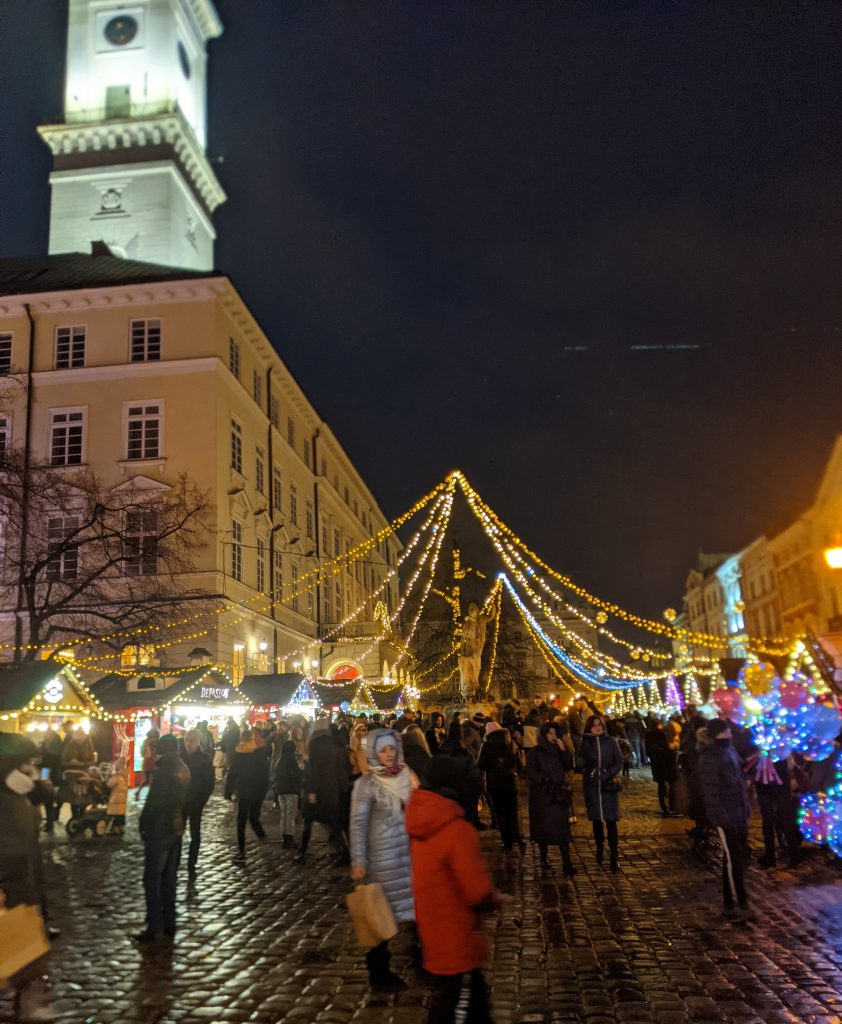 Even with Covid ongoing, there were things to see, festivals, markets, and performances. Christmas comes later for the Orthodox Church, and so from mid-December to late January, there are Christmas lights, markets, ice skating rinks, and a massive Christmas tree in front of the Opera. Especially from Latin Christmas (December 25th) through New Year's and Orthodox Christmas (January 7th in 2021), Lviv is filled with roaring holiday spirit. Kyiv also had nice Christmas decorations, but they didn't feel quite as welcoming, spread across a bigger city as they were. Looking for a nice place to spend the holidays abroad? Lviv should definitely make the list.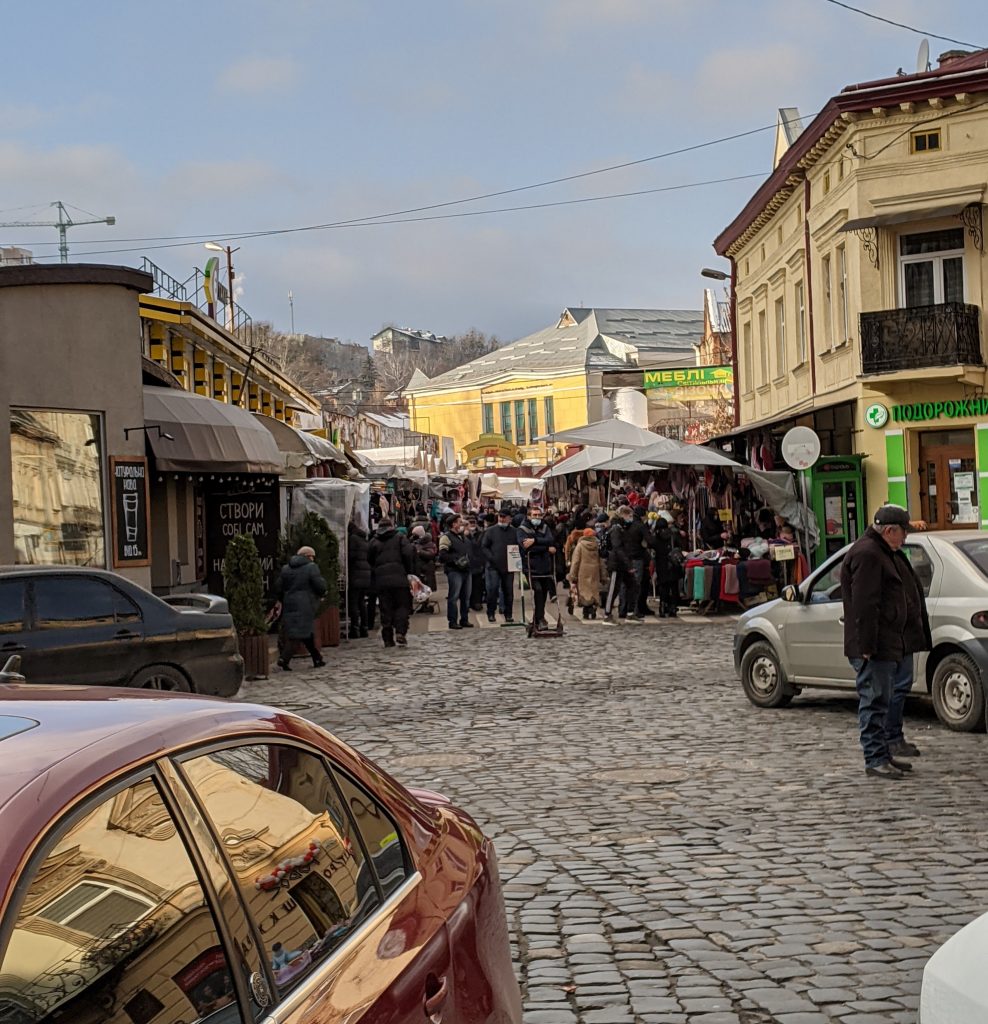 Despite all of the wonderful things, there is still only one big reason to go to Ukraine: because it is cheap (due mostly to a very favorable exchange rate). Food and housing are quite inexpensive. I ended up paying $700/month for a (large) AirBnB apartment in the center over the holidays, but I saw places hundreds of dollars cheaper at earlier times and less convenient locations. It was rare for me to pay beyond $10/person for a good meal, and a croissant sandwich and a hot drink from Lviv Croissants was something like $2.50.
Lviv is a great city for "slow" travel or a digital nomad. It is cheap enough to spend a month (or three) and get to know the people and the place. You can take a train ride for some weekend trips elsewhere, or if you are brave, rent a car to explore the nearby areas. Between the endless good cafes of the city center, to the interesting paths to explore on foot, I was still quite content after more than two months there, and would happily have stayed longer.

That said, for many travelers, Lviv may not be an ideal destination.
Despite the rather complex historical past of the city, today Lviv is fiercely Ukrainian. Whereas in many parts of Ukraine, Russian (or a Russian-Ukrainian hybrid) is spoken as the primary language, here Ukrainian is pointedly spoken. A large war memorial, just above the city center, commemorates those from the region who have died fighting against the Russian invasion in eastern Ukraine. Russian still works for communication, however, and Polish is understood by a good number of people, but English, well, English often won't work as often as I am used to.
The language barrier is probably one of the biggest difficulties in visiting Lviv. Most young people seem to understand English, but many are too shy to speak it with you. Speaking in English on the streets or in restaurants got more attention that I was expecting – especially from curious young children (who could often speak English better than their parents). Ukrainian, with a Cyrillic alphabet, is in turn, very challenging to learn. I should clarify – people are very welcoming to Americans and other Western Europeans, but they rarely share a common language with you.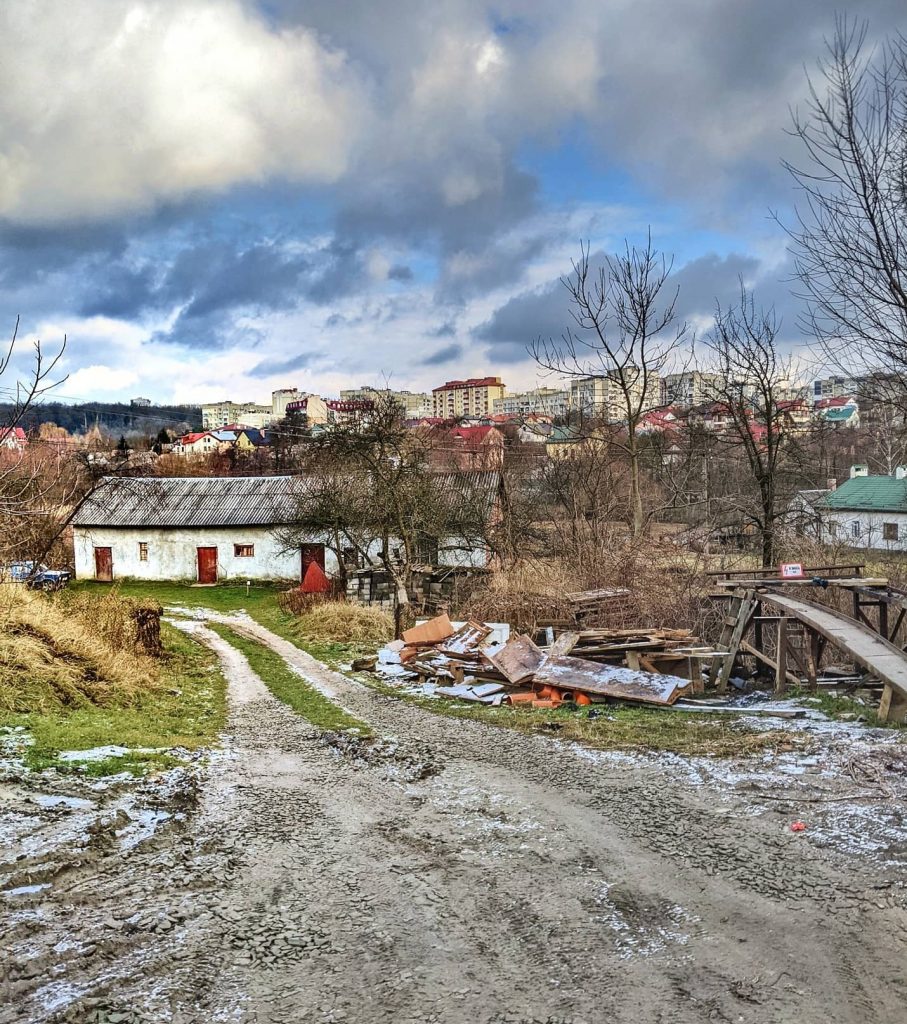 Other problems were the unreliable infrastructure – I saw electricity, internet, water, and gas outages during the course of my two months stay. Most locals don't trust the water (of course, this is true in most of Europe) – I tried the tap water and didn't have any problems, but decided to filter it first anyway. Internet speeds were acceptable, and about half of cafes had easily accessible WiFi. My apartment building did not appear to have any smoke detectors or fire alarms. Dog feces from the feral dogs, and spit from the feral men made me concerned about splashes of water from puddles in the street. I generally felt a clear lack in health and safety standards – I stayed safe and healthy without issue, but it was a more worrying environment than home.
The roads are also intimidating, to put it mildly. I would not recommend biking or driving there. Buses (marshrutka) are definitely a challenge for foreigners and all public transit is mostly analog – no smart cards, only tickets, and usually bought with cash directly from the driver of the bus or tram (supposedly there are ways to pay with phone or card, but I could not figure it out). On the plus side Uber (or Bolt, the more common local equivalent) was really cheap, as was food delivery by Raketa and Glovo.
Outside the city center, communist-era concrete apartments loom in endless, crumbling array. While the US has plenty of abandoned industrial areas, they tend to be separate areas, rarely seen. Here the modern and the decaying are jumbled together side-by-side. Anyone with disabilities or difficultly walking is probably going to struggle – stairs and bad pavement abound.
The gray winter weather, while warmer than my Minnesota homeland, is going to be a major detriment for anyone visiting from warmer places. Rain, snow, and never-ending clouds are the daily fare. Air pollution is definitely worse than I am used to – I was rather concerned during my runs about breathing it all in, and glad for even a little protection from my face mask. Smoking is also extremely common, unfortunately. Covid caused disruptions too, of course. I noticed restaurants frequently had limited menus or had run out of ingredients for certain dishes. Lockdown policy and enforcement was sporadic (bribery and corruption, unfortunately, seem to be just as common as the stereotypes suggest)
Lviv is not (yet) a major destination for foreign English-speaking tourists, and I rather expect it will still stay that way for a while because of these difficulties – I would highly recommend it as a destination, but for experienced travelers, only.
It is rather difficult to compare Lviv to Kyiv (the proper spelling of Kiev). Kyiv is noticeably more expensive. It is also a truly big, global city in the way Lviv, which is more of a university town, is not. After several months, I really felt like I had come to know Lviv, and had walked many streets and backways even some locals may not have known. Kyiv is huge, and you could never come to know it in the same way. It does have a nice metro, however, and lots to see and do. Kyiv seemed cleaner and more cosmopolitan, but less comfortable and less welcoming.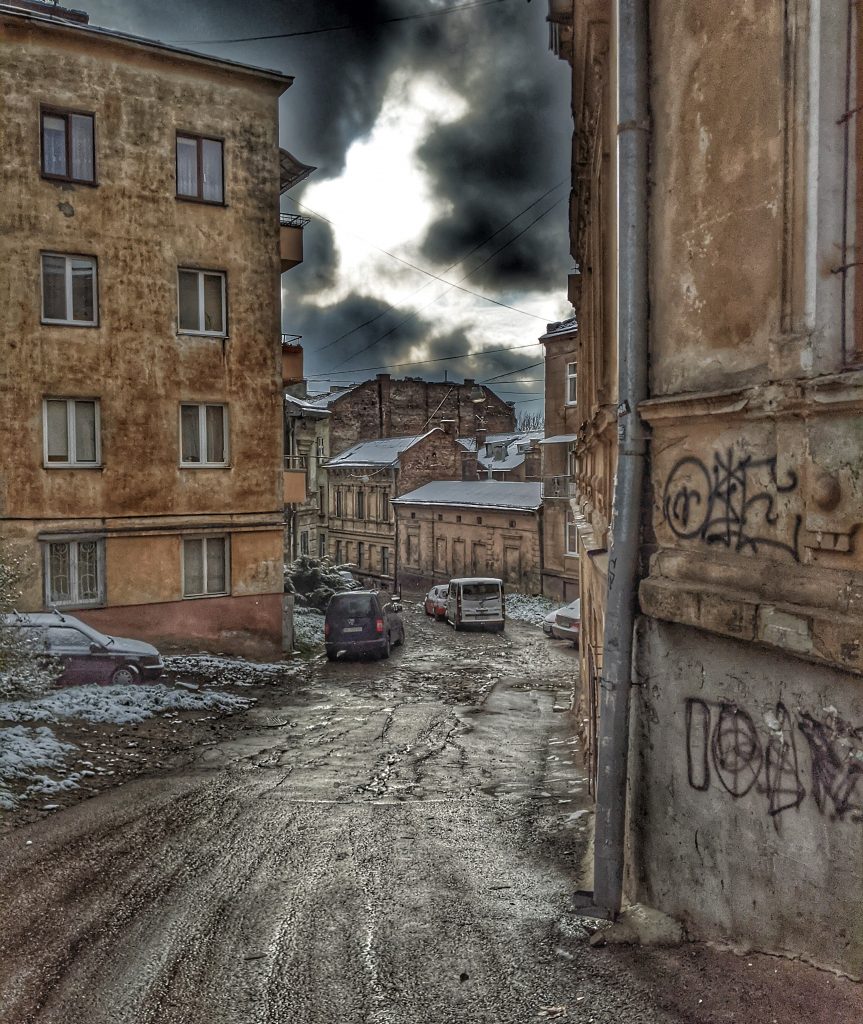 A few other stray things I noticed. The first was the rarity of glasses. Plenty of people seem to have them, but avoid wearing them except when they really need to. Also rare: light-colored pants for men. I saw no khaki pants whatsoever. Black trousers (and sometimes blue jeans, gray trousers, etc) seem more common. Women tend to dress more 'traditionally' (as in, trousers and tunics rather than leggings, with a preference for long, stylish overcoats) although maybe that would change in summer. My athleisure clothing wasn't a complete outlier, but less common there than here, and I usually stuck to my more business casual type outfits.
Everything Apple is very cool there, which annoys me as I dislike the closed and proprietary everything that is the Apple ecosystem. Those few people that had plenty of money liked to show it off with nicer cars and Apple products and so on – these people didn't give me the best vibes, but most of the rest of the people in Ukraine, who I think would be best described as "lower middle class" – not struggling to survive, but not exactly living in luxury either, were genuinely wonderful on the whole.
Finally, lots of parks there have genuine workout equipment in them. Yes, outdoor weight machines and so on. It is rather cool. More annoyingly, however, almost all of their indoor gyms are dedicated to weight-lifting bros (crossfit and dancing for women). Cardio gyms – with the long lines of treadmills and spin bikes like we have here, are less common, and I don't believe there are any near the city center. It is not a great place for sports or endurance exercise, except of course for walking – there is lots of walking to be done in Lviv, and this, I suspect, is the cause of the low obesity levels there. Bring a good pair or two of shoes when you visit Ukraine, you will definitely use them well.