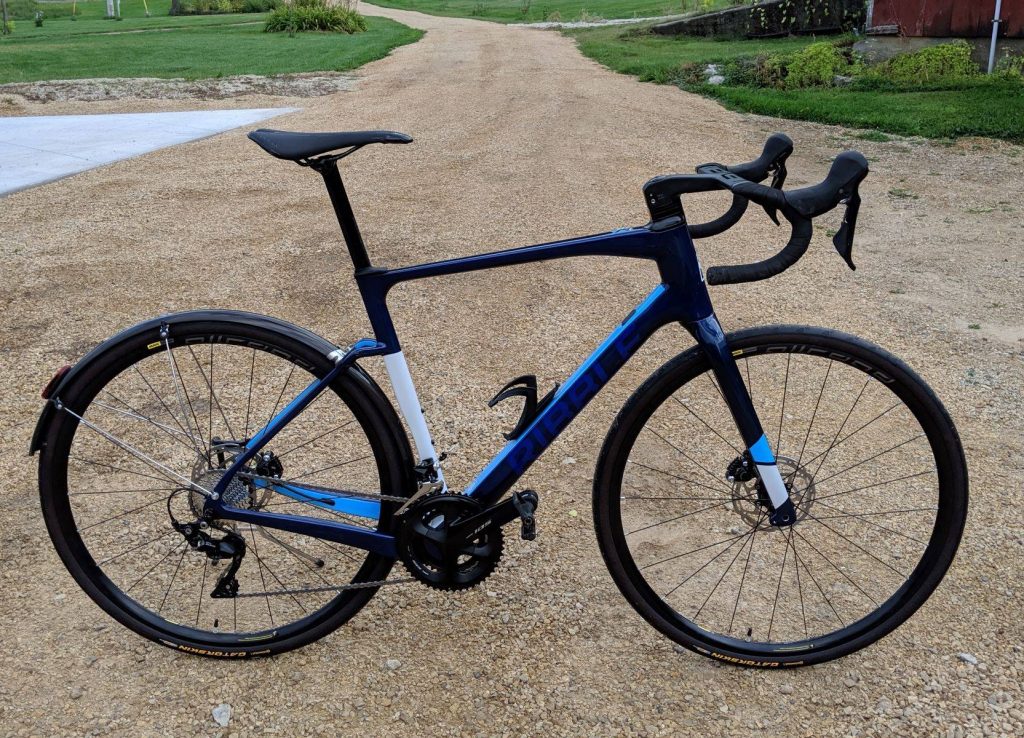 The Ribble CGR SL is a bike unfamiliar to most Americans, an English brand that has positioned themselves more on the value end of the market. 'CGR' stands for Cylocross, Gravel, and Road – its meant to do all three, and comes in steel, aluminum, and carbon, the last being what I have here. I got a Carbon 105-equipped bike with fenders for $1900 + $140 for shipping (no tax) + $400 (gatorskin, wheel, and aero cockpit upgrades).
I got this bike as an all-round commuting, training, and possibly cyclocross and gravel bike. When one is living in an apartment, one has room for, in my experience, no more than about 3 bikes. This I find very limiting: I want a road bike for training, a road bike for racing, a TT bike, a commuting bike (possibly summer and winter options), cyclocross/gravel bike, mountain bike, fat bike… When one has as many bikes as I do, one wants to have and use them, but alas… Theoretically this Ribble can, with its wider tire options, give me year-round commuting, training, and gravel/cross options all in one durable, performance machine. Here are my quick thoughts:
Pros:
Great Value
Good Ride Feel, very responsive
Beautiful blue paint job
Lots of customization options in the Ribble Store
Fender mounts
47 * 650b Tire clearance
Cons:
Heavy! 21.3 lbs as pictured
Cheaper junctions (seat mount, seatpost clamp, etc.) configurations than on my premium carbon bikes – they do seem to work but not as nicely
Sucky thru-axles, or perhaps user inexperience, I managed to strip the head on one of them right away, and then spent $90 getting some DT Swiss replacements.
My first impression of this bike is that it is very heavy. My dad's Domane SLR weights in at a much leaner 18 or so lbs. But the Ribble is on par with plenty of its peers in the gravel adventure range, which are almost always over 20 lbs. It lacks the Domane's front-end IsoSpeed, and to me that's a good thing. The handlebars shake a lot more than the Domane, but the bike feels much better sprinting in compensation. What really wins me over is that, riding the same tires (32 mm Gatorskins) down a technical gravel descent (something 32 mm tires aren't up to at any speed) I felt much more secure on the Ribble. The Domane is a road bike for old-duffers with some gravel capability, the Ribble is fully off-road compatible.
Conclusion:
For my purposes – as a high performance commuting and all-around bike, it really hits the mark for the value. I imagine in the years to come this bike will see almost as many miles on it as all my other bikes combined. But it is not a bike to race in road races at a competitive level, if your riding is almost exclusively on the road, a 105-equipped Canyon Ultimate falls in the same price range and is a really awesome race-level road bike (I briefly had the Canyon Ultimate Ultegra version, and loved it). Or if you are a road-only person who has no interest in racing, consider a titanium bike. And if you are a mountain bike person, well… don't be, because you can get more adventure on a gravel/cross bike on mixed terrain than stuck on machined downhill bike parks.
Notably, I have no concern for the LBS (local bike store) destruction by online brands (like Ribble and Canyon). In fact, I only see bike stores growing across the Twin Cities, if anything its a war between independent stores (like my shop the Bicycle Chain) and regional chains like Freewheel (which I also love) and Erik's (a bit less, but still good). I still spend plenty of money at an LBS, so there's still market for them.